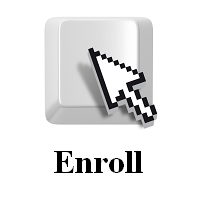 Certificate Course on

Lean for Healthcare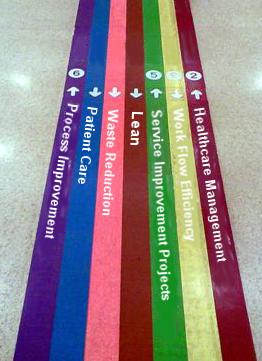 The course is designed for healthcare professionals to let them be competent to lean projects in their own organizations which can improve the services and enhance work flow efficiency as the result.
CME / CNE / CPD accreditation is in application.
For participants who have completed this course, the last 3 hours of the Lean Leader for Service Course in Six Sigma Institute will be exempted
Course Objectives
Upon completion of the course, participants will:
Have a clear understanding of Lean concepts
Know the differentiation of which Lean tools can be applied in healthcare environment
Be able to use appropriate Lean tools to complete lean service projects
Know how to use Lean improvement framework to enhance work flow efficiency in hospitals
課程內容
日期
Topics
Speaker
4 July

Introduction to Lean Concept for Healthcare
Selecting Improvement Opportunities
案例
Map the Value Stream – Current State
Group Exercise – Blood Draw Case I
Identification of Individual Project

Dr. Y. K. CHAN
(Chairman of Six Sigma Institute )
11 July

評估現狀及識別改善行動
Map the Value Stream – Future State
Implement Actions and Compare Results
Group Exercise – Blood Draw Case II

18 July

介紹 – Individual Projects
案例 1 – Recovery Room Time
案例 2 – Long Queuing Time for Patient Blood-taking
Exercise 1 – 改進藥房的服務能力
Exercise 2 – 注射流感疫苗
SSI Course Code: HLA(01)
日期: 4 July 2014 – 18 July 2014 (Every Friday)
時間: 7:00p.m. – 10:00p.m.
地點: Lecture Hall, 4/樓, Duke of Windsor Social Service Building, 15 Hennessy Road, Wanchai, 香港
Language Media: 廣東話 (用英語輔以)
Certificate: Awarded to participants with a minimum attendance of 70%
課程費用: HK$1,200 (3 sessions, 9 hours)
Enquiry: The Secretarial of The Federation of Medical Societies of Hong Kong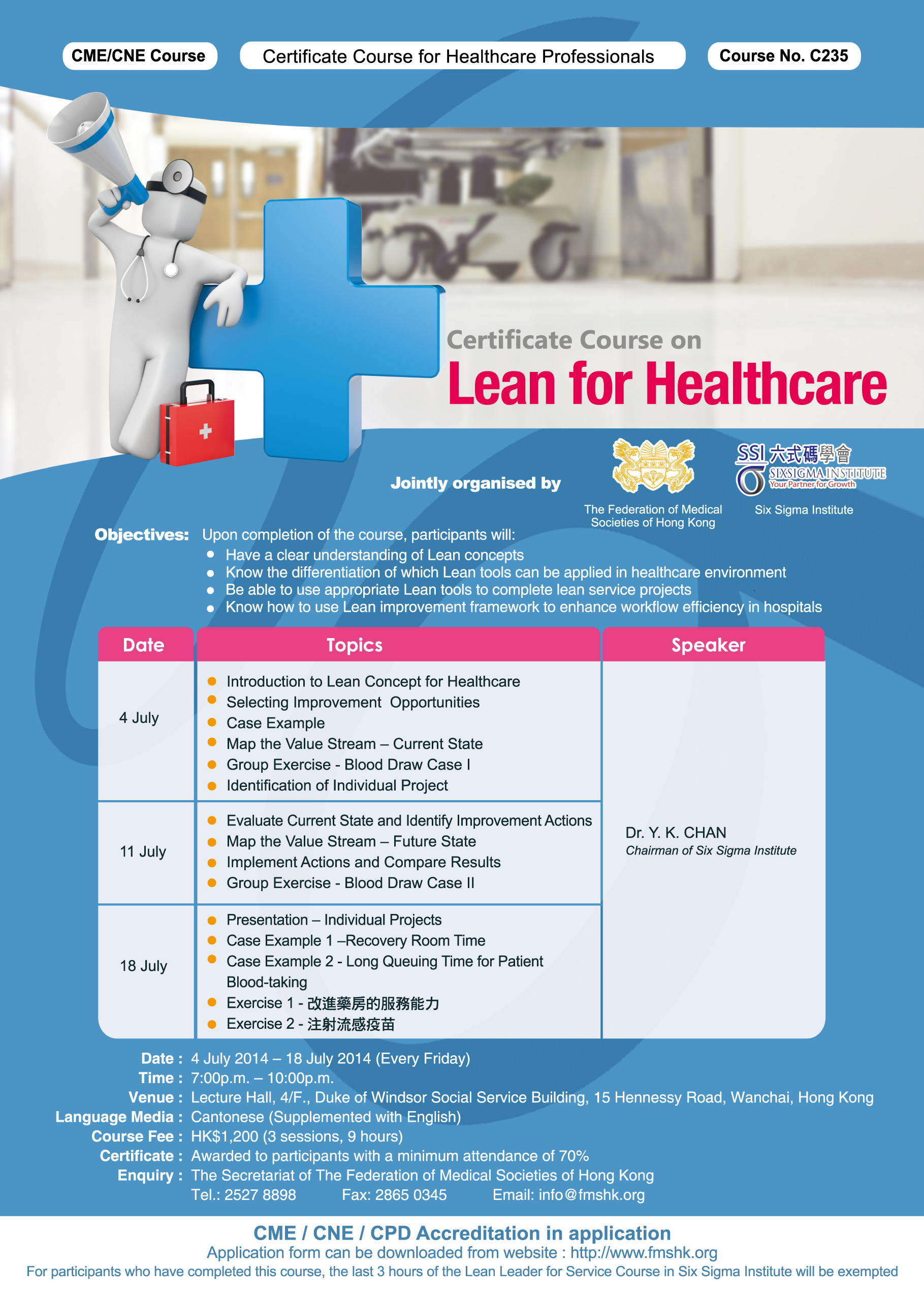 | | |
| --- | --- |
| Jointly organized by: | |
| | |