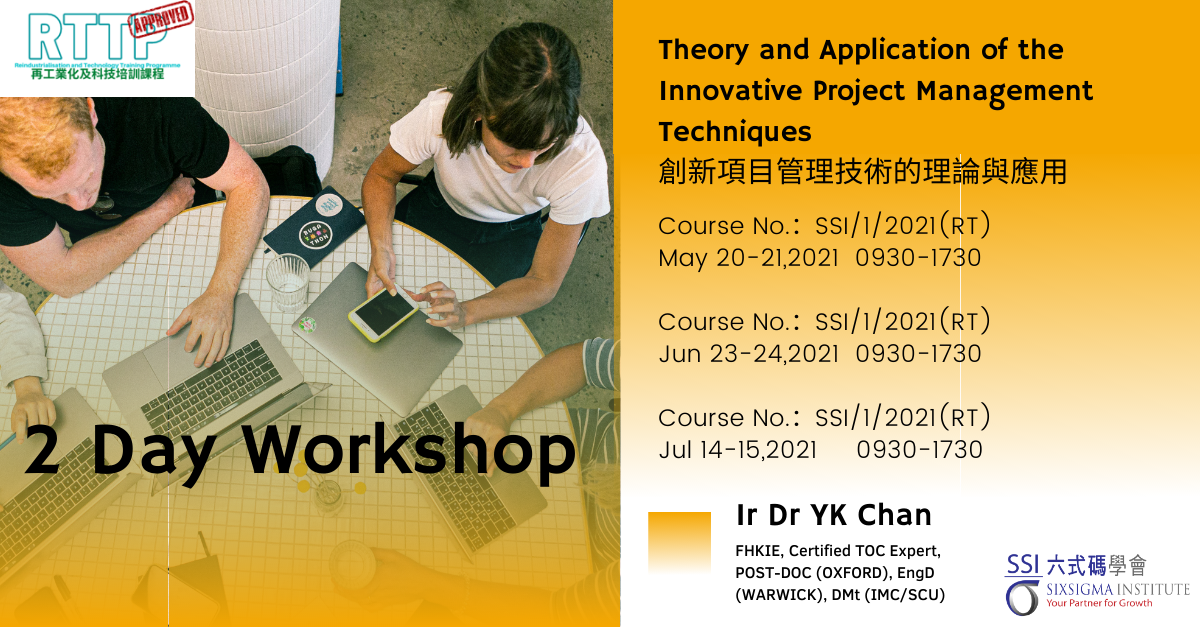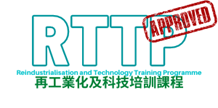 「課程已被列入再工業化及科技培訓計劃下的已登記公開課程名單內。」
Participants can apply for reimbursement of training grant through their company via (https://rttp.vtc.edu.hk/tc/
application-and-reimbursement).
Company can also apply training grant for a customised training programme for their employees.
Objectives
The Objective of the three workshops is to build a critical mass of project related professionals and managers by sharing and transferring knowledge regarding a new and proven breakthrough project management technique, Critical Chain Project Management (CCPM).
Experience from leading companies all over the world indicates that successfully implementation of CCPM will result in enhancing the companies' productivity and competitiveness.
Using the new skill will help Hong Kong enterprises to manage their projects in a much effective way during their journey towards Industry 4.0
Who Should Attend
Project managers, resources managers, engineers for construction and engineering projects, capital works, IT projects
Executives who are responsible for task forces, working groups and major tasks
Deliverables
Acquire a new concept and methodology for management of projects
A trial version of the latest and most comprehensive project management software for immediate implementation of this new techniques with rapid results
A free copy of Excel program for managing simple projects
Contents
Current Issues of Project Management
Simulation Game to Show Solution Directions
Implementation of Solutions
Simulation Exercise
Comparison of Current and New Methods
Visual Chart for Project Tracking and Monitoring
Simulation and Results
Monitoring and Reporting Project Progress
Case Examples
Video Show – Completing a Belayed High-Speed Railway Station
A Large-Scale Government Project
Use of the Excel Program for Simple Projects
The Current Challenges of Managing Multi-Projects
Steering of Projects According to An Organization's
Capacity
Resource-based Project Planning
Managing Project Uncertainty or Variation
Simulation Game
Project Priority System
Fast, Daily Execution Management
Overview of CCPM software
Introduction to the Latest Software, LYNX
Demonstration of LYNX functionality for Single and Multiple Project Management
Case Examples
Pre-requisites
There is no specific knowledge requirement, but participant will be benefited if they know the conventional project management tools
Free Software
A copy of Excel program for managing simple projects
Language
Cantonese with English terminologies (with presentation slides in English)
Mode of Learning
Classroom lecture, discussion, simulation games, group exercise, Use of LYNX Software
Venue
1627 Star House,Middle Block, Star House,3 Salisbury Road, Tsimshatsui,Hong Kong
Fee
HK$3,800/participant
10% off, pay 1-month in advance
15% off for 3 or above from the same organization
Certificate
A certificate will be awarded upon completion of an individual project using the Excel program
Speakers

Ir Dr YK Chan
FHKIE, Certified TOC Expert, POST-DOC (OXFORD),
EngD (WARWICK),DMt (IMC/SCU)
Ir Dr YK Chan learned the innovative project management techniques from the Founder, Dr. Goldratt in Israel. He is one of the few Critical chain Project Management (CCPM) Practitioners certified by the Theory of Constraint International Certification Organization (TOCICO, www.tocico.org).
Dr Chan promotes the theory and application of CCPM in Asia and Greater China and organizes certification examination for the TOCICO in Hong Kong and China.
Currently, he is the chairman of Six Sigma Institute, the CEO of Global Institute of Management and the Managing Director of SBTI-HK Co. Ltd. He is also a Registered Engineer, Six Sigma Master Black Belt and Lean Specialist.
Mr. Anthony Chan MPA, MEM, RSSMBB, RSSBB, FHKQMA
Mr Anthony Chan has 30 years of working experience in senior positions in various leading manufacture companies including Managing Director of Asian Operations, Laser Pegs Ventures LLC and Planning & Distribution Director of Mega Brand HK Ltd. etc.
Currently, he is the Director of Hong Kong Quality management Association and Vice President of SBTI-HK Co. Ltd.
He is a subject expert of Critical Chain Project Management (CCPM) software. He is also a Registered Six Sigma Master Black Belt and Lean Specialist.
Enquiry
Miss Moon Lau Tel. 2581-2771
Email [email protected]