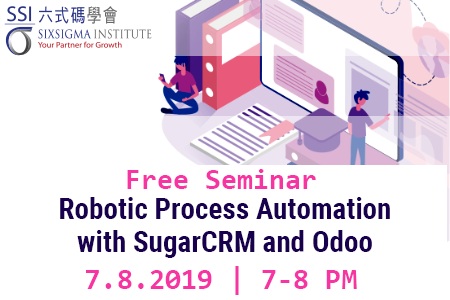 Seminar Topic: Robotic Process Automation with SugarCRM and Odoo
Date: 7 Aug 2019
Time: 7:00 PM – 8:00 PM
Venue: Six Sigma Institute, Unit 1627, Star House, Tsim Sha Tsui, Kowloon.
Introduction:
Robotic Process Automation (RPA), SugarCRM and Odoo have been hot topics and implementation
for the past few years, RPA is helping business users to automate anything involving keyboard and
mouse without much of IT development skills. The turn around time to automate a process is
quicker and its able to run 24×7.
SugarCRM has been one of the world's top CRM solution which provide a lot of features, for
example, IBM and Apple are the one's that using SugarCRM as their solution. Sales automation,
integration with other.
Odoo is also one of the quick growing ERP systems which you can build web site, manage orders,
accounts and etc…
With the three different software that specialized in their own area, the quick integration is needed.
There is no one software can solve all issues.
With this session, we are going to provide quick introduction to the characteristics and then
following with some real-world issues with integration and automation. With the help of Lean, Six
Sigma, we are able to integrate the technologies and methodologies together.
Presenter:
Alex Lee
Senior Consultant
BEng(Hons), MSc, RLSBB, MBB,
CAQ – BB Aboutknowledge offers RPA, CRM, Document Management, Web site Development, Web hosting and IT consultation
Aboutknowledge (Hong Kong) Limited is one of the System integrator in Hong Kong market, and
have had customers from different countries, Taiwan, Thailand, China, Hong Kong, UK and US. They have been providing IT solutions and cloud/web hosting solutions.
Enrollment (If you cannot view the form below, please use the direct link here):