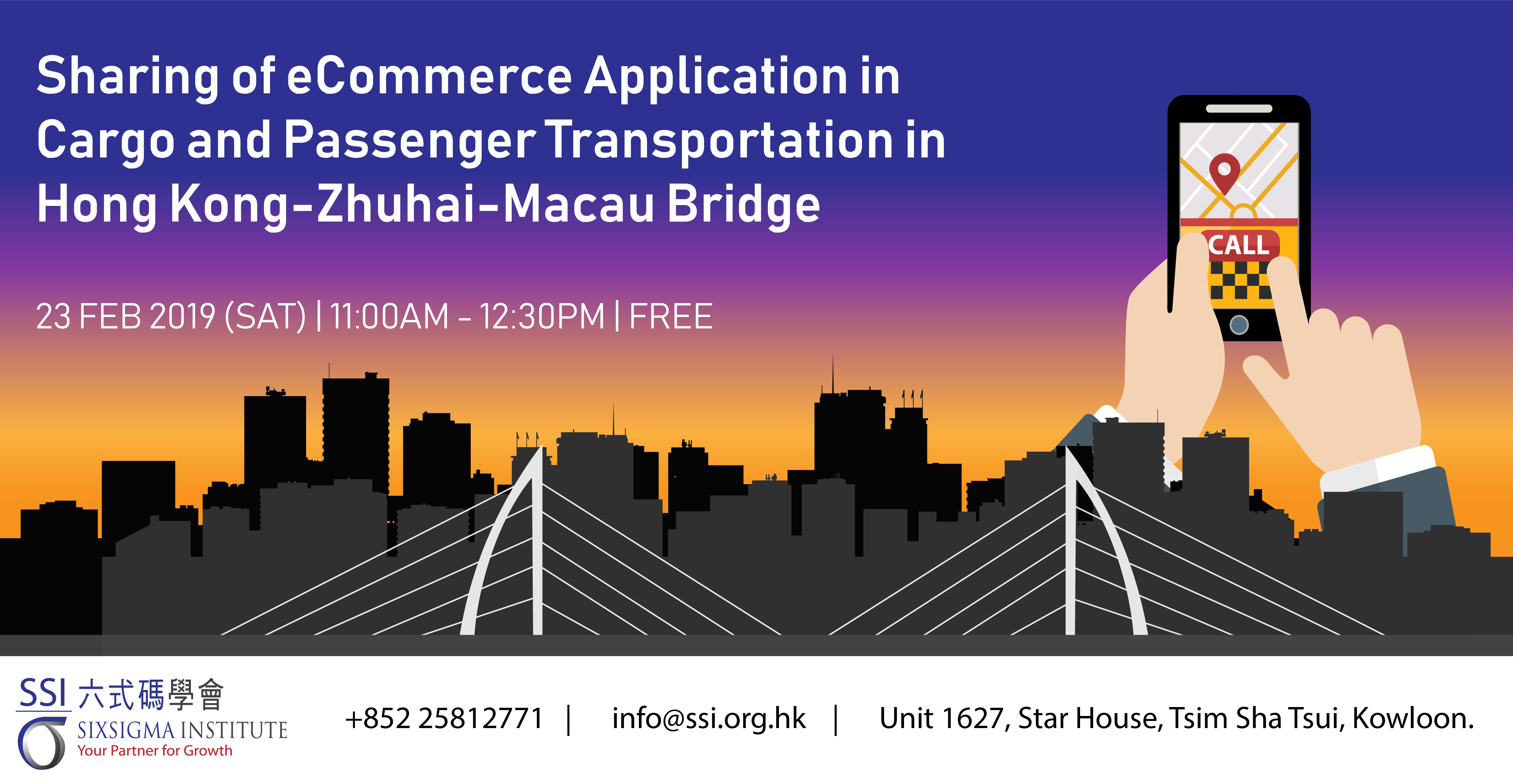 Seminar Topic: Sharing of eCommerce Application in Cargo and Passenger Transportation in Hong Kong-Zhuhai-Macau Bridge
Date: 23 FEB 2019 (SAT)
Time: 11:00 AM – 12:30 PM
Venue: Six Sigma Institute, Unit 1627, 16/F, Star House, 3 Salisbury Road, Tsim Sha Tsui, Kowloon
Remark: Free of charge
Introduction:
Along the opening of HZMB in 2018, visitors have a new option travelling between Hong Kong and Macau. By sharing the experience of the first VIP cab service on the HZMB, participants will understand more about running a business with portable devices and the eCommerce application on transportation.
Topics:
Part I: Cargo Transportation
Cargo transportation in practice – HZMB open up opportunity straight into the Greater Bay Area.
Part II: Passenger Transportation
The first Uber type of VIP cab services on the HZMB connecting Hong Kong and Zhuhai – how to run a business with a smartphone?
Who should attend?
People in the logistics industry or,
Any interested in understanding how e-commerce logistics can improve the market position of the company and make the company more competitive in the market.
Piority will be offered to SSI Registered Professionals.
Presenter: Mr Kenneth Chow
BBA(Hons), Chinese University of HK
MSc in Globle Supply Chain, HK Polytechnics University
Pro Dip in Lean and Six Sigma (Service) Black Belt, Chinese University of HK
Chartered Institute of Logistic UK
Pro Dip in Transport Studies, HK Polytechnics University
Mr Kenneth Chow has 30 years of experience in airlines, freight forwarders, express delivery, airport projects, manufacturing and telecom Fortune 500 logistics management companies. His management footprint covers the entire Asia Pacific region and manages many well-known brands in the electronic and electrical product categories with first-hand information.
Enrolment: If you cannot view the form below, please click here.